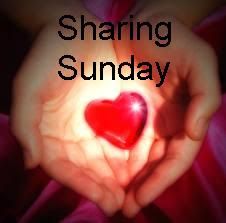 I was asked by Jane over at
Flight Platform Living
to join up with her this Sunday for her Sunday Sharing Linkup. I'm honored she thought of asking me.
My life is extremely chaotic and I dream of time to myself. Which a get in the wee hours of the morning. Hearing the tick tick tick of the clock keeps the true relaxation away as I know morning with children will come sooner than I'd like on most days. When I dreamed of having children I never envisioned all the sacrifices of me that I would have to make. There are many. However, sometimes the sacrifices of me don't seem so much sacrifices as they do priviledges. Those special moments when the noise around you quiets and the world seems to stop. It's just you and your little one, and all is right with the world. The housework doesn't exist. The phone stopped ringing. Food is no longer a necessity.
This is my girl. I prayed night and day for her for years. Finally she arrived. Yes, I did ask as soon as she was born if she really was a girl. She is strong-willed, voices her opinions, and has an awesome set of lungs that she exercises regularly. She loves to jump and play with the best of them. She is also my girly girl and mamma's girl.
We now have more time together, just her and I that E is in school half days. It's only a two hour period. Yet, in that two hours, she babbles about everything. Everything is "amazing". Weeping Willows and Palm trees are "sad". She collects the mail and cries when there is no key in our mailbox to open another box with bigger packages. Allowing her then to drop the second key in the mailbox slot waiting for the "clunk" as it hits the bottom. Lately, I've taken to calling her "My Girl" when she's being good. "That's My Girl". "That's a great job. Good Girl". Very common to hear when she listens as we leave peacefully from the school playground. As she co-operates and holds on to the stroller as we cross the street. Lately, A too has been calling me "her girl". I find this special as she loves her "girls". She calls Ashley Tisdale's character Sharpay "her girl". Hannah Montana is also "her girl", and it wasn't lost on me that the first thing she noticed on the poster was Hannah's red pumps. I think these ladies are very pretty. So if I fall into "her girl" category how cannot I not feel special. Somehow I know it's more than looks though that makes them special to her. Their characters have a sweet heart. My A has a sweet heart. She is seeing mine even when I cannot see it the majority of the time.
Ahh, I love My Girl...
***************************************************************
If you would like to join the linkup, head on over to
Flight Platform Living